- Case Study -
Sporting Goods Brand Hits a Home Run with Personalized Products.
How they achieved higher order value, increased margins, and improved customer loyalty.
Background
St. Louis native, Rawlings, has been manufacturing baseballs, gloves, bats, and gear since 1887. Not only are they the official baseball glove and baseball of the MLB, but they're also known for their custom products. From custom gloves and embroidery to engraved helmets and bats, baseball fans and players can create sporting gear that's unique to them.
Challenge
To craft a truly unique, personalized product, Rawlings needed to be able to offer their customers a wide variety of custom attributes. However, the more customization required, the more challenging it becomes to fulfill.
Rawlings needed technology that could not only identify which products were custom and therefore needed a different fulfillment process, but a system that could also offer their customers unlimited customizations.
That's where Deck Commerce came in.
Solution
Rawlings customers have over 50 custom attributes they can select from to craft their perfect glove—from choosing the color of the laces and leather to custom embroidering (to name a few). The ability for Rawlings to do custom products well depends on the strength of their order management system.
To ensure a perfect product each time, Rawlings leverages Deck Commerce in 3 key areas:
Advanced Data Capture: Deck Commerce allows Rawlings to collect as many custom attributes as they need and captures all the details of the personalized product at the line-item level. Plus, the customer service UI gives agents insight into all the custom attributes and can make changes to line items if needed.
Smart Order Routing: When a custom glove is ordered, Deck Commerce recognizes it's a custom product and routes it through its own unique workflow. Embroidered messages go through brand review to ensure the message is appropriate and all custom glove orders are routed to the specific warehouse that builds the custom gloves.
Transaction Processing: Deck Commerce gives Rawlings the ability to set different payment capture rules for standard products vs. personalized products, as personalized products can't be resold once made. Plus, Deck Commerce triggers email communication to Rawlings customers every step of the glove's journey so that the customers can see where their glove is in the process (being built, embroidered, shipped, etc.).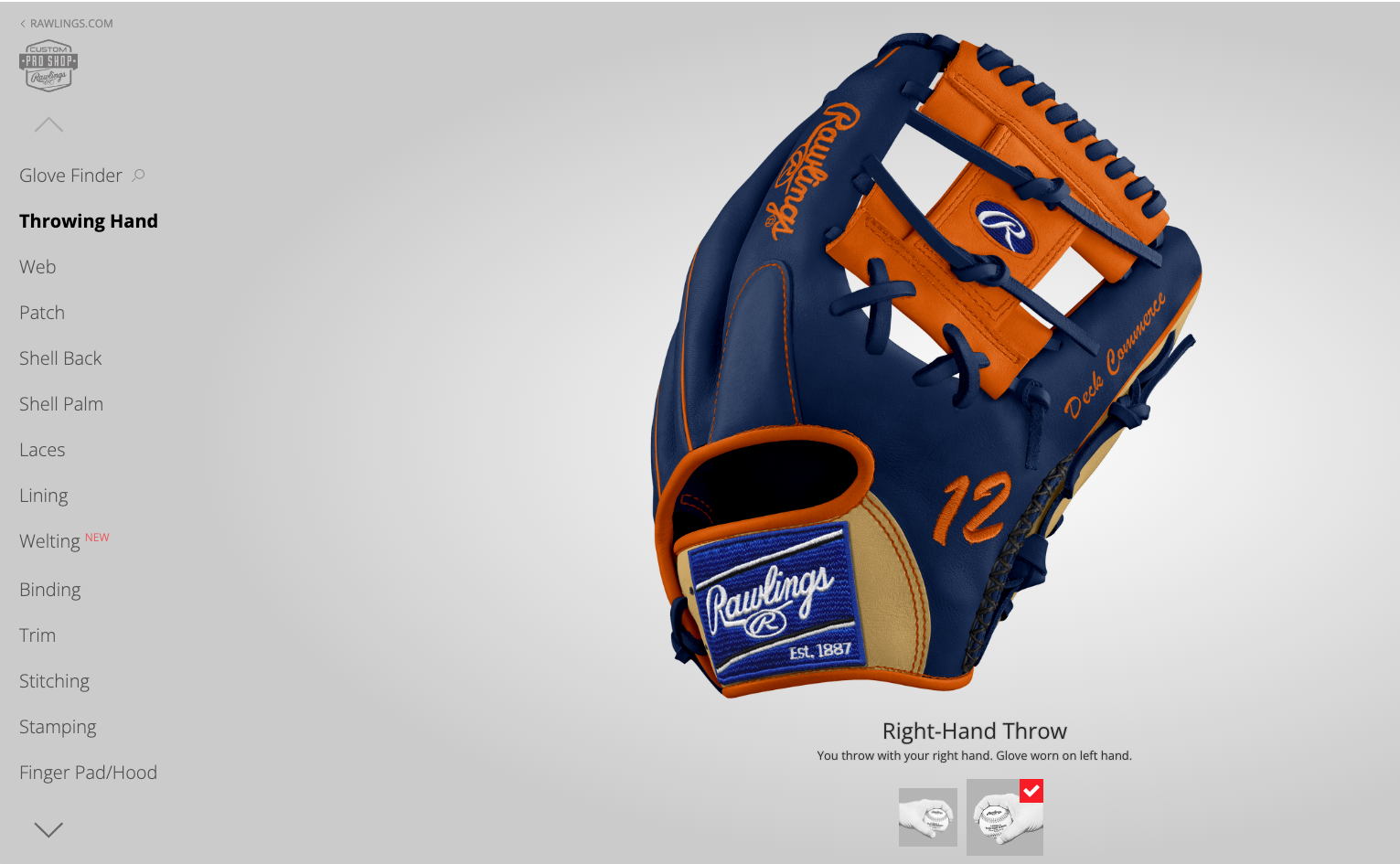 Results
In today's competitive retail environment, the ability to provide personalized experiences can be a key differentiator for brands.
Since launching fully personalized products, Rawlings has seen increases in order value, higher margins, and an increase in customer loyalty, making custom products a home run for their business.
0
week technology implementation timeline
0
backend processes changed

"I highly recommend Deck Commerce. Their platform allows us to focus on our main goal of providing great experiences and service."


Director of Digital