Turn a predictable liability into a
growth opportunity

.
Automated eCommerce Returns Management
Returns in retail can be complicated, cumbersome, and costly. An order management system (OMS) enables retailers to automate and coordinate the return process to decrease cycle times and handling costs.
Benefits
Turn a predictable liability into a growth opportunity.
Give customers control of their return experience

Optimize reverse logistics

Faster returns & recovery of inventory

Incentivize shoppers to buy more when returning

Leverage return reasons to manage (and resell) reclaimed products

Less servicing time per order

Increase foot traffic via omnichannel returns

Increased customer satisfaction
Features
Facilitate a faster, smoother return & exchange process.
Automated returns

Customer-initiated returns

Omnichannel returns (BORIS)

Return Management Authorization (RMA)

Refund & credit management

Apply restocking fees

Customizable return reasons

Shipping label creation

Trigger customer communications throughout the returns process

Prebuilt return management integrations & APIs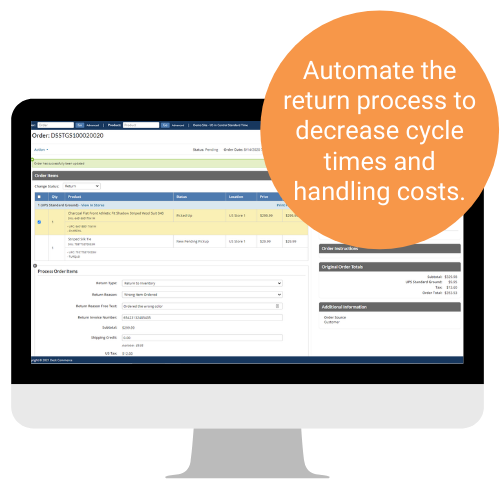 0

%

of consumers will buy something again if the return process is easy. -Invesp
0

%

of consumers check the returns page before making a purchase. -ReadyCloud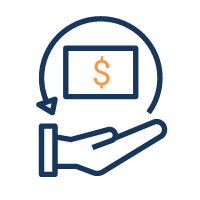 Using a spreadsheet to manage returns?
We can automate these processes, including:
Return payment with correct taxes and item-level proration

Return loyalty points to prevent fraud

Track return reasons, locations, & RMA information
Trigger return communication, like emails and SMS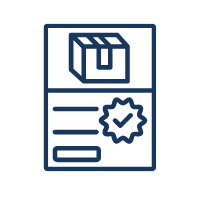 Is your return experience seamless for customers?
We help streamline the returns process, so your customer experience is reliable and predictable for every order.
Enable customer-initiated returns, make returns quicker, & give customers visibility throughout each step of the process.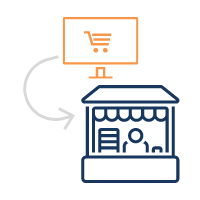 Need to improve or implement cross-channel returns?
We facilitate returns initiated anywhere (a store, online, or by your customer service team.)
Our Prebuilt workflows make handling returns painless for you and your customers and track return reasons by location, so you can analyze trends at any store or warehouse.
Learn More About Return Management
Manage Customer Experiences Beyond the Buy Button