- Case Study -
How Victoria's Secret Ditched Spreadsheets and Streamlined Internal Order Management for Over 1,000 Stores.
Background
As the leading intimates specialty retailer with a global footprint, Victoria's Secret strives to provide the highest standard for their customers while also prioritizing their employees.  
After a complete rebrand of their customer website, Victoria's Secret pivoted their focus to creating a B2B ecommerce platform to improve the internal ordering process for their employees, ditching a manual spreadsheet process and leaning into a digital and automated transformation. Relying on the powerful Deck Commerce order management system, Victoria's Secret set out to improve their technology and streamline their once manual processes—with the goals of creating a seamless ordering experience and improving store operations.   
Challenge
With over a thousand store locations, the ordering process for Victoria's Secret employees was often cumbersome, requiring store managers to place orders through spreadsheets and the corporate team to manually process the order intake from those spreadsheets for over one thousand stores. The corporate team then had to place these orders directly with each supplier fulfilling the orders for products ranging anywhere from office & cleaning supplies to shopping bags.
In other words, the corporate team had several suppliers to manage with orders that first had to be reconciled from spreadsheets while also ensuring the correct products are being sent to the correct store location. Inevitably, this method created many errors.
If the manual use of spreadsheets for placing orders wasn't time-consuming and frustrating enough, the challenge with communication between corporate and store managers across all store locations left even more room for error. More so, relying simply on product codes and product names often created confusion and incorrect items being ordered and received.
Solution
Now, with a dedicated dashboard on their B2B ecommerce platform and the implementation of an order management system, store managers can place orders with certainty and ease with the visual aid of images on products.
Store managers and the corporate team are both saving countless hours with streamlined ordering on the website. The corporate team no longer has to place orders directly with suppliers as Deck Commerce OMS communicates these orders directly to the suppliers. Additionally, Deck Commerce provides visibility that enables, store managers see what's backordered, can view their store's order history and have visibility of when items are shipped by suppliers.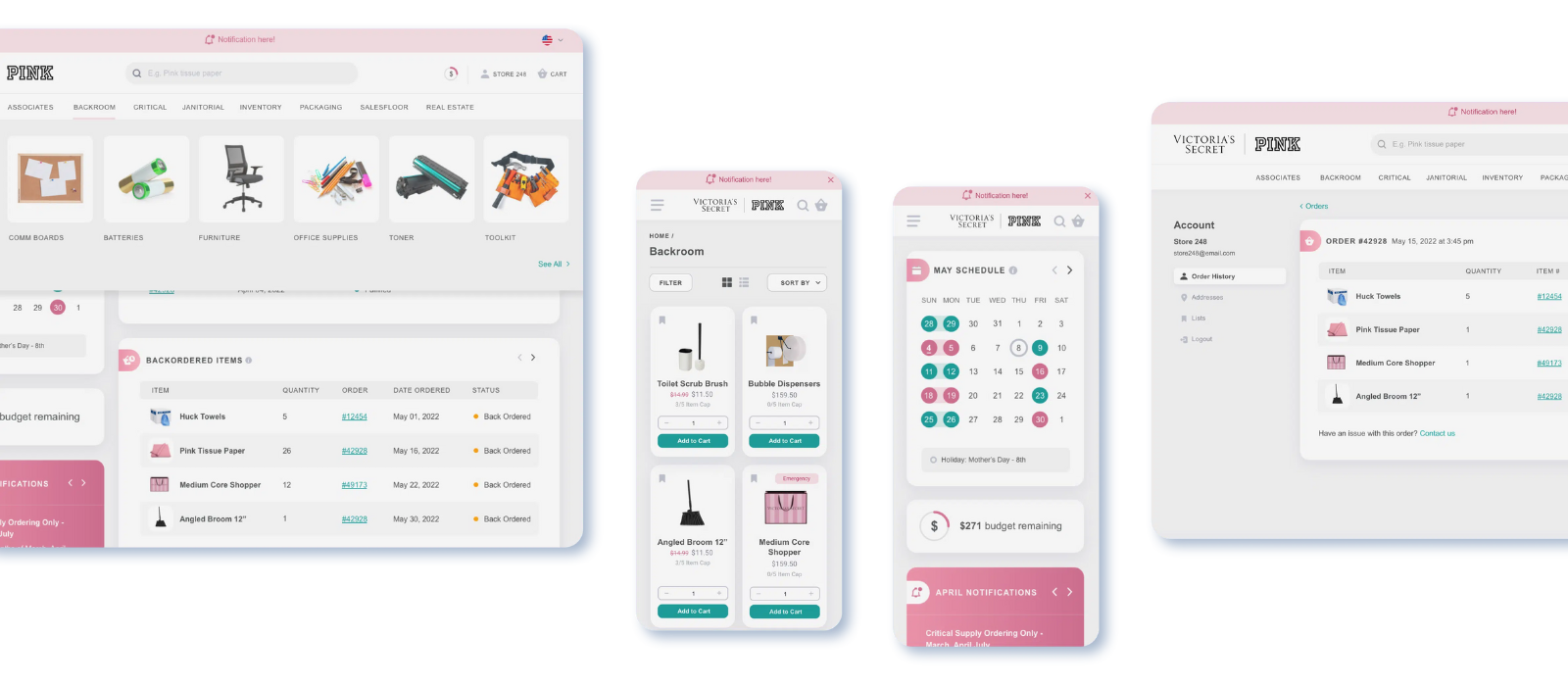 Results
With the Deck Commerce OMS, Victoria's Secret has successfully provided their store managers a customer-like experience through shopping online for store necessities while leveraging inventory management and distributed order management with multiple fulfillment points.
Since implementing the Deck Commerce OMS, store managers can now place orders quickly on their B2B ecommerce platform. This transformation has eliminated manual processes - reducing headcount, minimizing the risk of errors, and increasing efficiency of store operations. And because of the automation Deck Commerce OMS provides behind the scenes, order routing and fulfillment are also significantly improved with more accurate orders and faster deliveries. 
While an OMS is typically sought to improve a merchant's customer experience, it can also be used to improve internal experiences. An OMS can save employees countless hours, increasing work performance and improve employee satisfaction -- a true testament that an order management system can go beyond improving the direct-to-consumer experience. 
0
stores automated for ordering & fulfillment
0
orders streamlined annually
+
0
order processing hours saved a month